If your team uses Slack, you can create a channel and integrate with Connect Space to get registration notifications.
Slack is a real-time messaging tool that we integrate with so you can receive registration notifications. If you have an active Slack account you can integrate with Connect Space following the instructions below.
In Slack:
1) Open your profile and go to Apps & Integrations to open the App Directory.
2) Choose Manage in the top right corner, then Custom Integrations.
3) Click Incoming WebHooks. If you do not see Incoming WebHooks as an option, you should search for it in the search bar at the top of the page.
4) Under the WebHook logo click Add Configuration.
5) In the drop-down choose the channel you want Slack to post to, and click the green Add Incoming WebHooks integration button.

6) Copy the Webhook URL in red text and go to your Connect Space event.
In Connect Space:
1) Click Registration.
2) Click the Registration Settings button.
3) Scroll to the Registration Notifications section and toggle Slack Notification to ON.
4) Paste your Webhook url from Slack into the Slack Integration URL field.
5) Click the Save button.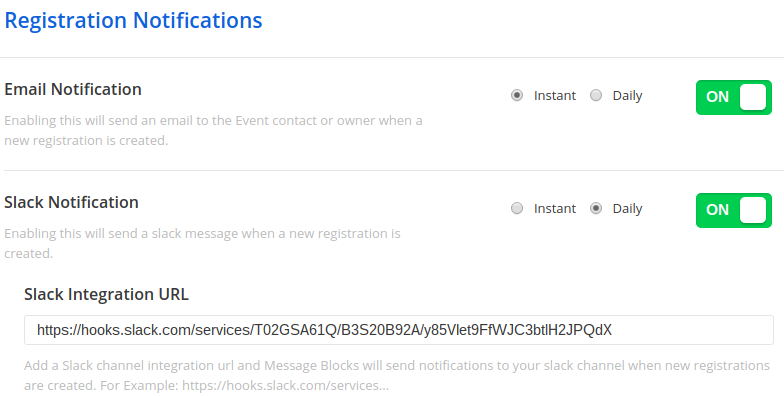 Did this answer your question?