Learn how to add contact information, a profile image, and change your password from within Connect Space.
Click the Planner Profile icon at the top-right of the screen.
Click Account Settings

in the dropdown.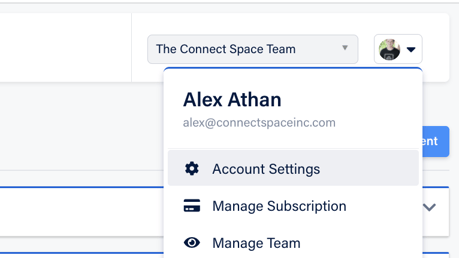 The Account Settings Page is where you can edit several things pertaining to your profile such as name, phone number, email address, profile image, and password.
Basic Information
The form in the Account Details section asks for basic contact information.
Profile Image
To add, or replace, your profile image click the Choose File button next to "Upload Image" then select an image from your computer. Click Submit.
To remove your profile image, click the remove checkbox. Click Submit.
Changing Your Password
On the Account Settings page, click Change Password to create a new password and type in your current password, then in the following fields type in your new password. Click Submit.
Did this answer your question?