Check out this article to learn how to create an agenda and breakout sessions for your event!
Summary
Agendas are crucial to many events, so we've made it as simple as possible to build a dynamic agenda for your events.
This article will cover:
Adding a Day
Adding a Session
Making a Session into a Breakout
Adding a Breakout to a Session
How To Add a Day:
Our Agendas are built using Days and Sessions. For starters, every event must have at least one day.
Click Agenda in the Side Navigation.
Click the Add a Day button.
Enter your Day Details including the name (ex. Day One, Sunday, etc.) and date.
Click the Save button

How To Add a Session:
On the Agenda page, click the Add a Session button.
In the dropdown menu, select a Day for your session.
Enter your Session Details (additional details below).
Click Save.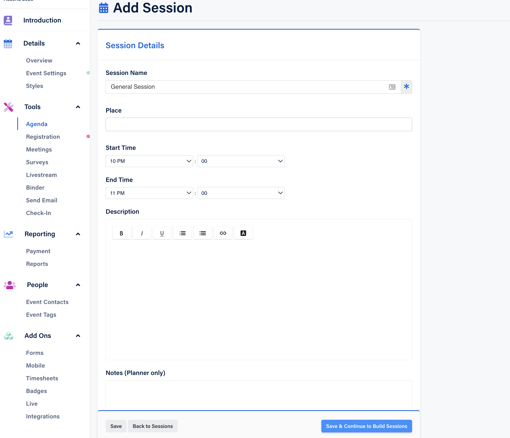 In addition to general details such as the Session Name, Start Time, End Time, and Description, there are other options you can customize on a Session such as: Uploading a Session Image, Making it a Breakout Session, Adding Speakers, and Uploading File Attachments/Handouts.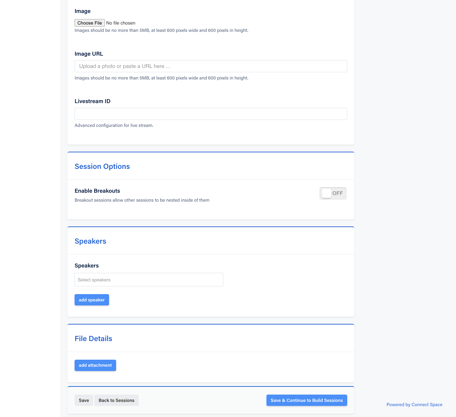 How to Make a Session into a Breakout Session
Breakout Sessions enable you to nest Sessions within a Session. For instance, if you have several simultaneous sessions you'd create a Breakout Session to hold them.
To create a breakout session, make sure the Enable Breakouts option is toggled ON for the Session. Click Save.
Now you can add one or more breakouts by following the instructions below.
On the Agenda page, click the

+Breakout button on the session you want to add a breakout to. Alternatively, on the individual session page there will also be a +Breakout button.


Fill out the Session Details just as you would for any other session.
Click Save.
Did this answer your question?