Read more if you want to add an image to your Attendee Update or Event Invite.
You can add an image into your email's body as long as your image is hosted online. This article covers how to upload an image to an online source and add it to your email in this article.
Uploading an Image Online
To add an image to your registration instructions first you'll need to upload it to an online source. We like to use www.Imgur.com. This is to make sure we can pull a url address for the photo:
1) Head to Imgur (or your preferred image hosting service) and sign up if you don't have an account.
2) Upload your image from your computer to the web. In Imgur you can do this by clicking the Add Image button.
3) Copy the direct link of the image. In Imgur you'd do so by clicking on the image and copying the Direct Link (pictured below).

Adding The Image to Your Email
1) In Connect Space, navigate to the email you created, click to the spot you want to add the image, and paste the link. The image should show up in the Message section (pictured below).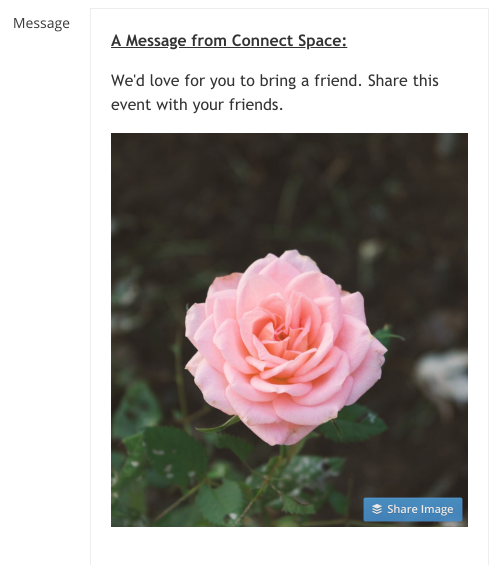 2) Don't forget to click the Submit button when you're finished editing your email to save your changes.
Did this answer your question?