Learn how to give your browser access to use your camera and microphone.
Windows 10 *COMMON FOR FIRST-TIME USERS*
https://support.microsoft.com/en-us/windows/camera-doesn-t-work-in-windows-10-32adb016-b29c-a928-0073-53d31da0dad5
After clicking on the above link, scroll down to the "Check your Settings" section and follow the instructions to give yours apps permission to use your camera. Clicking the "Allow access to the camera on this device" button will also quickly change these settings.
Apple/Mac Computers
Details Instructions for Screensharing on Mac
Go to System Preferences > Security & Privacy > Click the Privacy Tab.
From this page you can manage permissions for various apps to access your camera, microphone, and screen recording (screen sharing). The most common item to be disabled by default is the Screen Recording option.
To toggle which browsers can have permission to share your screen, make sure the lock at the bottom left is unlocked. If it is locked, click the lock and it will prompt you to enter your Mac login credentials. After doing so, you will then be able to check or uncheck apps on the right-hand side.
After making the necessary changes, you will have to restart the corresponding browser for them to take effect.
Screen Sharing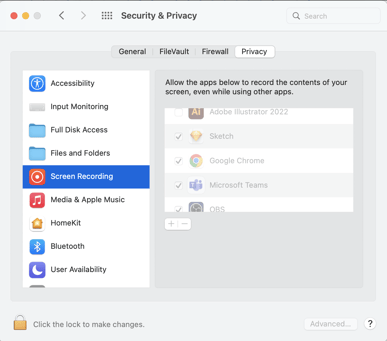 Camera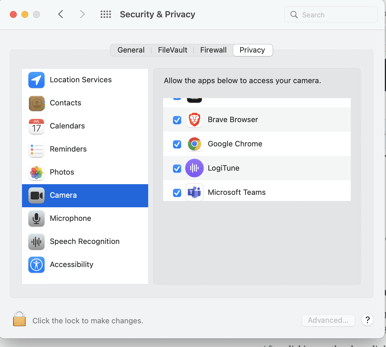 Microphone