Use Eventbrite Integration to import and sync your existing events!
Want to import and sync your Eventbrite events into Connect Space? It's easy with our Eventbrite integration!
How to Connect an Eventbrite Account
1. Make sure you are logged in to your Eventbrite Account
2. Now go back to Connect Space, and click "Integrations" in the top right dropdown
3. Click "Connect Eventbrite" This will take you back to Eventbrite, where you will Allow Connect Space to access your Eventbrite Account, giving us the ability to pull information such as your current events and attendees.
After you allow access, you will be re-directed back to the Connect Space Integrations page, and you should see the Eventbrite Integration is connected.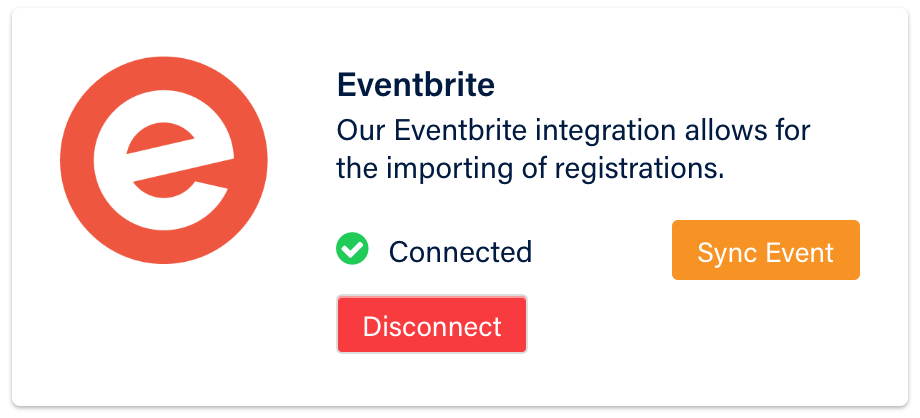 How to Sync an Event
There are two ways now to Sync an event. You can click the "Sync Event" on the Integrations page, or you can:
1. Navigate to your current active event in Connect Space
2. Click Integrations in the side navigation, and choose an Eventbrite event to sync your event to.
What is imported?
When an event is synced, all attendees that registered on eventbrite at the time of the sync will be imported into the Event chosen. The following fields will be imported:
First Name
Last Name
Email
Company
Phone
Also, the internal planner notes will be updated with the following text for reference "Imported from Eventbrite"
The Sync is a one way sync from Eventbrite into Connect Space. This means that anytime an attendee's information is updated in Eventbrite, it will also be updated in Connect Space. If information is updated in Connect Space, it will NOT be synced into Eventbrite.
Disconnect an Event
You can disconnect Eventbrite and Connect Space at any time. When disconnecting, all attendees imported will remain, but no further updates will be sent over from Eventbrite. You can re-connect to the eventbrite event anytime as well and it will not duplicate any attendees, rather it will only import any new attendees.
Disconnect the Entire Integration
You can also disconnect the Eventbrite Integration as a whole. This will disable all events that are synced and you will have to re-enable each individual event if you want to re-connect the integration.
Did this answer your question?